RCA Combines 7-Inch Android Tablet With a Boom Box For $180?
I cannot remember the last time that we mentioned RCA in an article, but they have hit the news today via a tipster over at Android Police. They are releasing a product they call the Internet Music System (model RCS13101E) that streams media into a set of speakers that look like a Boombox or compact music system, as well as being able to stream video into your TV via an HDMI connection…pretty cool stuff, and if their tipster is correct, all of this can be yours for only $180! A real bargain when you consider the fact that a 7-inch Android powered tablet is included in the price! You should start seeing it pop up in Wal-Mart stores soon.
Considering what this device is capable of doing, I am a little surprised by the naming – Internet Music System – when it can do so much more than simply stream music. It looks like a retro boombox with a touchscreen built-in, but upon closer inspection, that touchscreen is actually a 7-inch Android powered dual-core tablet with apps that are available for download from the Play Store, such as Google Music All Play Access, RedBox, Netflix, YouTube, and Pandora. The tablet is the control center and it allows you to stream audio to the attached speakers via Bluetooth or an HD Video to your big screen TV via an HDMI connection, and to make it a "complete" boombox experience, RCA includes both an FM radio and a CD player as a bonus.
No specifications are available on the system other that a dual-core processor, but don't expect to buy this to replace a Nexus 7.  We can get a sense of its size because of the 7-inch tablet, and looking through the speaker cloth it would appear to have two speakers and a bass port at the bottom, again, probably not Bose or Klipsch quality.  Wal-Marts are stocking up for the holiday season and if the $180 price is for real, it could be make a great Christmas gift for someone that has a room with no stereo, or just to sit out on the porch to relax or party.  When we get the exact specs and price we will shoot them your way.  Check out the video below: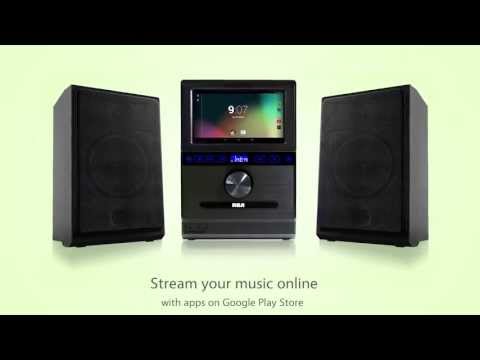 Category: Android News
I am Pittsburgh born and raised except for a 21-year detour through the VA/DC area. I have loved technology and gadgets my entire life, especially mobile devices. I have loved all things Android since I purchased my Motorola Bionic on the day it was release. I now sport a Samsung Galaxy Note 3 that you would have to pry out of my cold, dead hands! I love the excitement each day of what new Android devices will be released, and then I get write about those devices…does life get any better?