Featured Accessory Review: Kidigi Charge and Sync Dock for Nexus 7
Whenever we get a new smartphone or tablet, there's always the question of having to charge it, and if like us, you have a number of Android devices, a laptop or two and whatever else, that can add up to a lot of cables lying around. Charging docks and stands offer us a neater option to get these cables out of the way and charge our devices a little neater than just a mess of cabling. Here at Android Headlines I'm the resident dock man, I have multiple docks for my smartphone and tablet, there are speaker docks, and simple charging docks all over the house. This one, from Kidigi, is at home on my mouse mat on my desk.
The Charge and Sync dock from Kidigi offers a little more than the traditional dock from ASUS. The first thing you'll notice is that it's in portrait orientation, as oppose to landscape, which is something I genuinely prefer. There's no use of Pogo pins here as it's just microUSB but, this will allow you to connect up to a PC or laptop, which means all of those fastboot commands and toolkit selections can be done elegantly. Also, this dock will allow for Nexus 7s that happen to be protected by cases, just take out the thin profile tray and see if your Nexus with a case will fit.
For a better look, take a look at the video below, you can take a look at this and others like it from GearZap's range of Nexus 7 Accessories.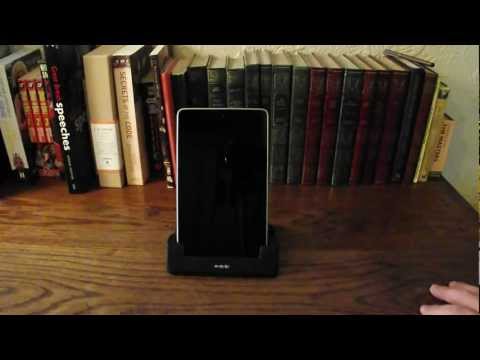 Category: Android Phone Accessory Reviews
For years now I've had a heavy interest in technology, I grew up with 8-bit computers and gaming consoles and have been using Linux for years now. Android saved me from the boredom of iOS years ago and I've loved every minute of it. As a big reader and writer nothing pleases me more than to write about the exciting world of Android and technology as a whole.